Domestic Distribution
Using the most advanced facilities, we guarantee efficient stock control and domestic distribution.
Amano Kaisoten handles various products through our domestic distribution system.
Such products are stored smoothly in our diverse range of warehouses that include regular warehouses, constant temperature warehouses, cold storage warehouses, dangerous goods warehouses, and so on. Incoming, outgoing, and inventory of goods are managed using our WMS system.
Main products handled by our domestic distribution system
Industrial products:Motorcycle and automobile parts, home electronics, audio products, etc.
Food:Frozen fish, cooking oil, canned goods, etc.
Other:Musical instruments, drugs, paint, etc.
Distribution center (value added warehouse)
We can meet sophisticated distribution needs with our highly functional delivery system.
Logistics center
Our delivery centers featuring diverse processing functions is a core base of our total distribution network system.
We guarantee smooth distribution by performing operations in accordance with customer specifications from inspecting goods to picking, packing, distribution processing, and creating invoices, and rapidly connecting this to the delivery service.
The delivery center also functions as a product center for our customers who can check the real-time management status of incoming and outgoing goods and other processes.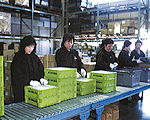 ●

Sorting
Each incoming item is sorted accurately.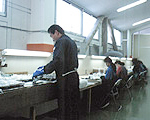 ●

Inspection
After sorting, each and every product is carefully inspected, and moved to the next process only if accepted.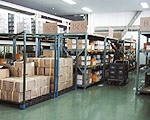 ●

Picking
Based on customer order information, products, which are subject to location management on storage shelves, are picked accurately and promptly.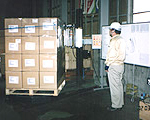 ●

Packing
After confirming the quantity and condition of products picked according to order information, the products are packed accurately and in a timely manner according to product characteristics.
Joint delivery center
We have know-how and enhanced facilities based on joint delivery service with convenience stores and other facilities. Leveraging our product management ability and mobility of distribution has allowed us to greatly reduce distribution costs.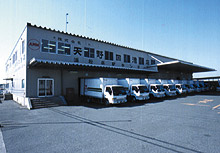 Hamamatsu Joint Delivery Center
This warehouse is for milk, salad, and other chilled products which require storage and management at low temperatures.
For bento and other rice products, maintaining quality is the key. Such products are stored at this warehouse to keep their flavor.
This warehouse is specifically for storing frozen foods such as ice cream.
Distribution center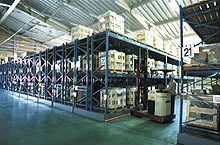 Fukuroi Distribution Center
Various types of products are stored safely and efficiently on movable racks subject to location management.
Sodeshi Center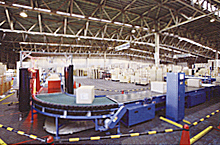 Material handling
A carrier machine (material handling machine) that reads QR codes attached to export goods, automatically sorts goods to 40 destinations. This further improves the efficiency, safety and quality of export services.
Sotohama Center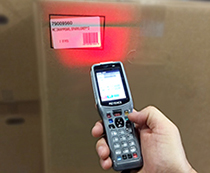 Inspection of goods with HT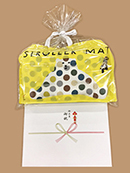 Request-based packing
We offer the services of our facilities and personnel based on our special know-how about mail order distribution to enable you to focus on growing your customer base with peace of mind.
For mail orders of imported goods, our services can help reduce your distribution costs through our B to C delivery service via the port of Shimizu, which is located at the center of Japan.
We can also provide you with shipping assistance in your mail order business for customers overseas.